Chances are these days, you're somewhere close to a 5G network, as the fast data connection becomes more commonplace, and there are more phones than ever with a 5G modem. It means now is a great time to future-proof your new phone by choosing a phone that supports 5G.
We've been reviewing 5G phones since the start of the 5G era and have spent countless hours testing all aspects of 5G phones — including their performance, display quality, battery life, and 5G network connectivity. We've also covered 5G as a whole, from the rollout of 5G networks to the development of the 5G modem.
Here are the best 5G phones available. Right now, the best 5G phone you can buy is also the best overall smartphone: The iPhone 13 Pro. If you're an Android fan, there are plenty of worthy choices from Samsung and Google. Once you know which phone you want, you can check out the latest 5G phone deals for the best prices.
iPhone 13 Pro
Best 5G phone overall
Pros
Packs lots of power into the size
Incredible camera and video performance
Very long-lasting battery
Smooth and responsive 120Hz screen
Comes with 1TB storage option
Cons
No USB-C
Not all third-party apps are optimized for higher refresh screen
Why you should buy this: This iPhone is a joy to use, giving you the new favorite squared-off form factor, a 120Hz screen, excellent camera performance, tons of battery life, and a range of great storage options.
Who it's for: Anyone who wants a high-end phone — unless they're firmly in the Android ecosystem.
Why we picked the Apple iPhone 13 Pro: The Apple iPhone 13 Pro maintains Apple's much-loved iPhone 5-style design, resurrected last year with the iPhone 12 series. It's a solid chunk of phone that sits comfortably in the hand and offers stellar performance, an awesome rear camera, and a range of premium features.
The iPhone 13 Pro supports all varieties of 5G connectivity, from sub-6 and ultra-wideband to mmWave, meaning that this iPhone — and all others in the iPhone 13 series — can leverage 5G on every major U.S. network as they continue their buildout.
The iPhone 13 Pro's 6.1-inch Super Retina OLED screen has great color accuracy, 2532 x 1170 resolution, and 460 pixels per inch. With sharp, bright viewing angles, it can hit 1,000 nits of brightness, and punch up to 1,200 nits for HDR content. Outdoor visibility is excellent even in direct sunlight, and the screen also supports HDR10 and Dolby Vision. But what really sets it apart is the 120Hz ProMotion display. ProMotion allows for a boost in refresh rate from the standard 60Hz to 120Hz for different kinds of content. The iPhone 13 also features MagSafe and can leverage the new ecosystem of magnetic accessories, including those that allow for faster wireless charging.
The iPhone 13 Pro (and its big sibling the Pro Max) has the best camera array in the iPhone 13 range. Three 12-megapixel sensors — a 12-megapixel wide-angle, a 12MP telephoto, and a 12MP ultrawide that can take 120-degree snaps — facilitate the best photos. Aside from the 3x telephoto zoom, Night mode, and Cinematic mode, the other big feature of the iPhone 13 Pro is macro photography via automatically swapping to the zoom lens to give you an up-close focus on your subject.
Much of the iPhone 13's power is derived from optimized power usage from combining the larger A15 Bionic processor and the LTPO screen with a variable refresh rate. The battery is also larger at 3,095mAh compared to the 2,815mAh battery that came with the iPhone 12 Pro. The result is more runtime with average usage. Apple excels at software and security updates, so your iPhone 13 Pro should feel like new for three years or more.
iPhone 13 Pro
Best 5G phone overall
Samsung Galaxy S22 Ultra
Best 5G Android phone
Pros
S Pen is convenient and highly accurate
Versatile camera takes great photos
The latest processor for power
Long software support
Beautiful high refresh rate screen
Cons
Not very fast battery charging
Large and heavy
Why you should buy this: The Galaxy S22 Ultra is a gorgeous hunk of phone with every panel and line perfect in fit and finish.
Who is it for?: Buyers who seek the safest, most forward-looking tech purchase available.
Why we picked the Samsung Galaxy S22 Ultra: The Samsung Galaxy S22 Ultra is a tough phone that will last for years. It's all business with flat end caps, sharp lines, and squared-off corners — not the friendliest design, and not the easiest to handle, but solid. At 228 grams, it's one of the heaviest smartphones out there. But there's a real beauty in the brutalism, and it's stylish and sleek despite all that.
The Galaxy S22 Ultra's huge screen is arresting with beautiful colors, deep blacks, and features like HDR10+ and Dolby Atmos for multimedia. The same Armor Aluminum metal used on the Galaxy Z Fold 3 and Z Flip 3 constructs the chassis, paired with Gorilla Glass Victus+. Its 6.8-inch Dynamic AMOLED screen has a 120Hz refresh rate and a maximum resolution of 3088 x 1440 pixels. It supports HDR10+ and is covered in Gorilla Glass Victus+, with peak brightness at 1,750 nits. Samsung promises four Android version updates and five years of security updates for superlative longevity.
The Galaxy S22 Ultra comes with an S Pen stylus nestled within a storage slot on the bottom of the phone, letting you take neat, hand-written notes using the stylus and the screen naturally. The camera lenses are individually set in the back panel in an attractive, minimalist design — not integrated, as in the previous model. The camera takes beautiful photos with vibrant colors and balance, with an updated, customizable portrait mode, and otherwise gets the job done with a variety of versatile high-quality optical zoom modes plus the main and wide cameras.
It uses the Qualcomm Snapdragon 8 Gen 1 processor. The cheapest model comes with 8GB of RAM and 128GB storage space and does not support a MicroSD card. The battery is rated at 5,000mAh, and Samsung has equipped the phone with support for 45-watt fast charging (block not included in the package).
The Samsung Galaxy S22 Ultra costs $1,199 for the 8GB/128GB version. For more storage, the price is $1,299 for a 12GB/256GB model, $1,399 for a 12GB/512GB model, or $1,599 for the top 12GB/1TB version. Samsung promises four Android version updates and five years of security updates for superlative longevity.
Samsung Galaxy S22 Ultra
Best 5G Android phone
Samsung Galaxy S21
Best value 5G phone
Pros
Slick and colorful hardware
Excellent display
Improved fingerprint sensor
Lower price leads to great value
Cons
Plastic back on base S21
Not a 2021 flagship camera experience
Galaxy S21+ value disappointing at $1,000
Why you should buy this: The Samsung Galaxy S21 might not have all the Ultra's features, but it's a powerful flagship at a lower price.
Who it's for: Anyone who wants a 5G-capable phone that offers high-end specs at a relatively affordable price.
Why we picked the Samsung Galaxy S21: If you don't prioritize the camera, or don't want a massive phone, you can save some money and consider the Samsung Galaxy S21. A lower price doesn't mean lesser 5G, though — the Samsung Galaxy S21 comes with full 5G compatibility for all major U.S. carriers, so you'll be able to access the fastest 5G connections across the country and hop between them on an unlocked model without losing access to 5G.
The S21 has the Qualcomm Snapdragon 888 processor, packaged with 8GB of RAM, 128GB or 256GB of storage, and a 4,000mAh battery that will last all day. The camera offers a 12MP main camera paired with a 64MP telephoto camera and a 12MP ultrawide camera. It shoots great photos most of the time.
The display isn't the largest — 6.2-inches — which is good if you're looking for a smaller smartphone. It's not lacking in specs, though, as it's a Dynamic 2X AMOLED with a 2400 x 1080 resolution and a 120HZ refresh rate. In short, it's sharp, colorful, and feels extremely smooth. Other features include an in-display fingerprint sensor and wireless charging — but the cheaper price tag does show itself in the build. The plastic back is very noticeable if you're used to more premium glass. Still, chuck a case on it and you won't care.
What about the price? While the Samsung Galaxy S21 launched at $800, it regularly gets discounted. If you'd prefer not to have a 5G phone with a plastic back, then the $969 OnePlus 9 Pro is for you. It's an excellent value as it shares the same processor as the Galaxy S21, but pairs it with a curvy glass body, a Hasselblad-tuned camera, and very fast battery charging. The great software completes the package.
Samsung Galaxy S21
Best value 5G phone
Google Pixel 6 Pro
Best fashionable 5G phone
Pros
Incredible camera
Fun camera features and editing tools
Vibrant, colorful screen
Android 12
Long software support
Cons
Unreliable in-display fingerprint sensor
Flaky cellular connection in some situations
120Hz screen can jitter
Why you should buy this: The Pixel 6 Pro is the best Google phone of recent years, and it's so powerful and well supported that it will last you for years.
Who it's for: Anyone who is looking for a uniquely stylish, aesthetically appealing smartphone with a fashionable color scheme, and quality materials and feel.
Why we picked the Google Pixel 6 Pro: The Pixel 6 Pro is a flagship phone with a striking design on the outside and overhauled tech on the inside. It's up there with the best-looking phones released. After years of dull, utilitarian-looking mobile devices, the Pixel 6 Pro pairs software brains with external beauty, a great camera, and the latest software at a reasonable price. 
The Pixel 6 Pro has a beautiful 6.7-inch AMOLED screen with a 19.5:9 aspect ratio, a 3120 x 1440-pixel resolution, and a 120Hz refresh rate that's covered in curved Gorilla Glass Victus. It's bright and has superb viewing angles, so you can keep the phone flat on the table without losing detail or color when watching videos.
You get a 50MP main camera, a 48MP telephoto camera with a 4x optical zoom, and a 12MP ultrawide camera. The Pixel 6 Pro also uses Laser Detect Autofocus, optical image stabilization on the main and the telephoto camera, and shoots up to 4K video at 60 frames per second (fps), plus there's an 11MP selfie camera in a hole-punch cutout at the top-center of the screen — it beats both the Samsung Galaxy S21 Ultra and the Apple iPhone 13 Pro.
The Pixel 6 Pro uses Google's new custom Tensor processor with 12GB of RAM with either 128GB or 256GB storage. Equipped with a 5,000mAh battery, fast charging to 50% takes 30 minutes with a USB-PD 3.0 charger and Qi wireless charging to operate 24 hours on a single charge.
At 8.9mm thick, it's not slim or light at 210 grams, and not suitable for one-handed use. The metal and glossy glass don't provide much grip and the phone's slippery exterior means makes it slide on many surfaces. The fingerprint sensor is slow and unreliable and there's no face unlock available.
Google Pixel 6 Pro
Best fashionable 5G phone
Samsung Galaxy Z Fold 3
Best 5G foldable phone
Pros
Improved screen durability and IPX8 waterproofing
Powerful hardware and capabilities
Solid rear cameras
Great for multitasking and productivity
Cons
Still expensive
Lackluster battery life
Why you should buy this: The Samsung Galaxy Z Fold 3 is the best foldable on the market. After three years of refinements and progress, this phone is ready for prime time, offering a great gaming experience and tons of value for multitasking and productivity.
Who it's for: Anyone who wants a phone and a tablet rolled into one.
Why we picked the Samsung Galaxy Z Fold 3 5G: The Samsung Galaxy Z Fold 3 5G is a luxury phone, but if you want it all as well as the foldable experience with 5G support, this flashy handset is the way to go. The phone supports sub-6 and mmWave 5G, so it's compatible with every major U.S. carrier's network. The Fold 3 also supports Wi-Fi 6e, NFC, and Bluetooth 5.2. so there are no problems taking and making calls, browsing on 5G in the city, and connecting to accessories like the Galaxy Watch 4 and Bluetooth headphones.
The main screen is where the action is. When the phone unfolds, you see a big, bright 7.6-inch screen with a 2208 x 1768 resolution, which works out to a crisp 374 pixels per inch. It's AMOLED and supports HDR10+, so the colors are rich, saturated, and have the dense, inky blacks the panel is known for. The phone hits 1,200 nits of peak brightness, so both the cover screen and main screen have stellar visibility in direct sunlight. The weight tips the scales at 271 grams — heavier than most phones, but lighter than a tablet. Folded, it transforms into a tall and narrow "candy bar" measuring 158.2 x 78.1 x 14.4 millimeters. While somewhat bulky, it is relatively easy to use one-handed because of the narrow 6.2-inch cover screen. When folded, the cover screen has a resolution of 2268 x 832 and supports a 120Hz refresh rate, like the main screen. 
On the rear, the phone has three 12MP cameras: One primary sensor with optical image stabilization (OIS), one telephoto for 2x optical zoom and OIS, and one ultrawide for 123-degree shots for great photos with images that look crisp, with plenty of detail and minimal noise.
Under the hood, the Fold 3's hardware matches the best flagship phones available. It's powered by a Qualcomm Snapdragon 888 processor and has 12GB RAM and 256GB/512GB of storage — no microSD card slot.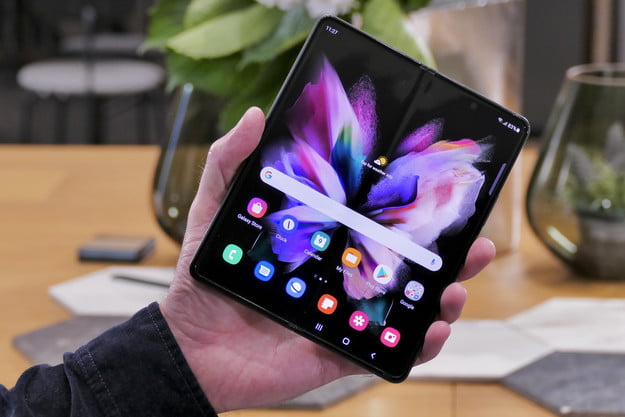 Samsung Galaxy Z Fold 3
Best 5G foldable phone
Samsung Galaxy A52 5G
Best value 5G phone
Pros
Colorful, 120Hz screen
Two-day battery life
Camera takes shareable photos
IP67 water resistance
Cons
Useless fingerprint sensor
Why you should buy this: It offers all the key smartphone features, including 5G, for less than half the price of our top choices.
Who it's for: Anyone who doesn't want to spend $1,000, but still values great features and a future-proof 5G connection.
Why we picked the Samsung Galaxy A52 5G: Samsung pulled off a clever trick with the Galaxy A52 5G. It managed to make a great-looking phone that takes excellent photos, has a battery that lasts for two days, and a high specification screen that costs comparatively little.
Instead of adding gimmicks, Samsung increased value by carefully adding features that people often look for, but rarely find in cheaper phones. For example, the A52 5G has an IP67 water resistance rating, a MicroSD card slot, and a 3.5mm headphone jack. Try finding those all together on the other phones in this list.
It looks and feels great too. The plastic case has a glass-like feel and is warm to the touch, while the chassis has a cool chrome finish, and the camera module on the back resembles the Galaxy S21 models. The camera takes attractive photos, with lots of fun features, including Samsung's Single Take mode. The only thing letting the A52 5G down is the poor fingerprint sensor, which is slow and unreliable.
Samsung Galaxy A52 5G
Best value 5G phone
Frequently Asked Questions
Where can I get 5G?
Unlike when it first arrived, 5G services are much more widely available now — though it really depends on what network you use. T-Mobile was the first to launch a nationwide network, built on its Sub-6 spectrum, while Verizon finally launched a nationwide 5G network that relies on some fancy spectrum-sharing tech recently. AT&T has a relatively widespread 5G network now too.
If you live in a major city, you should have access to some kind of 5G network, and chances are you have access to one from all three of the major carriers. If you live in a rural area, your odds still aren't very good — though it might still be worth picking up one of the best 5G phones now if you'd like to be prepared when it does arrive, without the need to change phones again.
The different kinds of 5G
If you have access to a 5G network right now, chances are you're on a Sub-6 network — these are much more available around the country. But you've probably heard about mmWave whose networks are far faster than Sub-6 networks and offer multi-gigabit speeds at times — which is enough to download a 4K movie in a matter of seconds. The mmWave connections are extremely limited because they rely on frequencies that can only travel very short distances, and can't go through obstacles.
That's where Sub-6 networks come in. Like 4G LTE, Sub-6 uses frequencies that can travel much further. However, the downside is that those connections can't quite reach the same speeds as mmWave connections. Either way, a 5G connection is faster than a 4G LTE connection. Don't think you're "making do" with Sub-6 5G, as it's still the easiest, most reliable way to get 5G speeds today.
The new C-band is still mired in controversy
The major telecoms (Verizon and AT&T) are spending billions on a new 5G spectrum called C-band, which could speed up 5G networks for potentially 60% of the U.S. population if everything goes as planned. C-band frequencies travel farther than mmWave and can move through solid obstacles, though without the range of the lower frequencies. But they are speedy, approaching 1Gbps. 
C-band has been the sole province of satellite companies up until now, but they are moving on to the upper portion of the band and leaving the lower spectrum open to cell phone carriers. The first exodus took place at the end of 2021 and the second is scheduled for the end of 2023. This is catch-up for the U.S., as other nations worldwide have already jumped on C-band. Currently, only iPhone 5G phones, late model Google Pixels, and the Samsung Galaxy S21 series support C-band, though more are expected soon.
Meanwhile, if something can go wrong, it will. The U.S. Federal Aviation Administration (FAA) warns of potential interference to airplane safety systems from the C-band frequency — specifically for radio altimeters that help with landing in bad weather to avoid collisions and prevent crashes. That has caused delays in implementation of the telecom's buildout plans, though no problems have thus far been reported in Japan, South Korea, or Europe, where C-band is already in use.
The FAA is currently working on new safety standards for altimeter equipment, but those won't be ready until 2023. Manufacturers will then have to work on designs that meet those standards, and observers anticipate extended certification and testing periods that will delay things even more. Fasten your seatbelts.
Editors' Recommendations